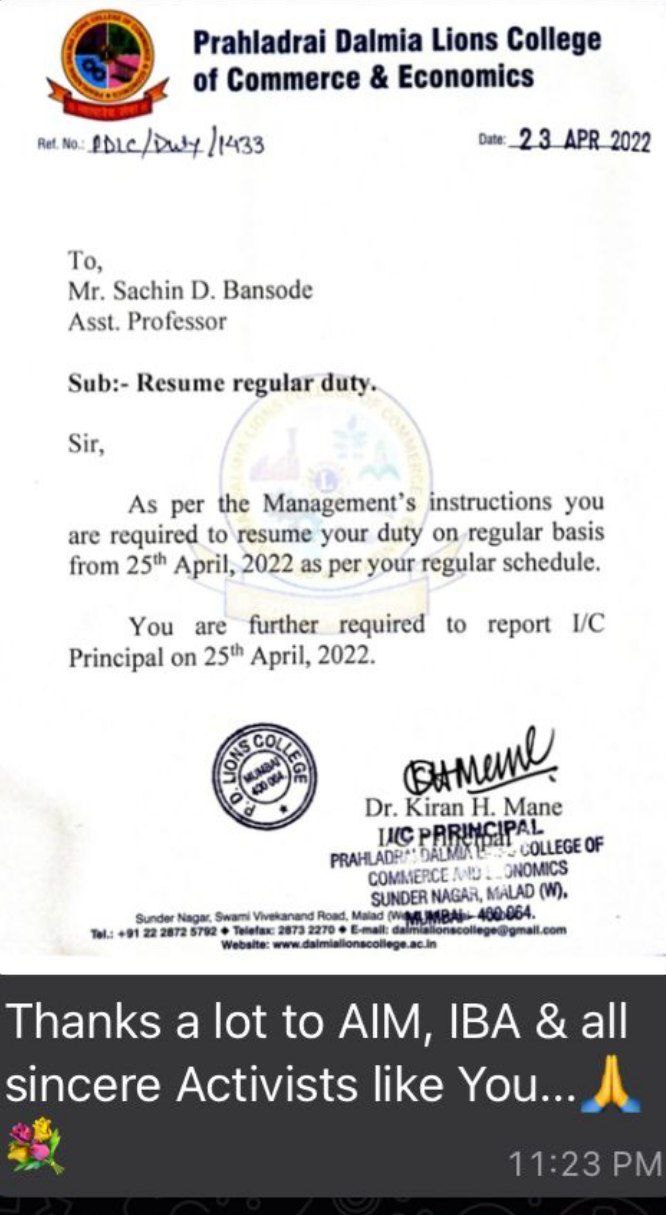 Date:
To,
Subject: Request for joining duty physically instead online by withdrawing your letter dt…
Refer: 1. Your letter dt… to me not to attend the office without vaccination,
2. My letter dt… to you to resume duty.
Respected Sir,
I am the undersigned wish to bring in you kind notice some important facts and rules with reference to above subject:
Union Government and Government of Maharashtra withdrew Epidemic Act and Disaster Management Act from 01.04.2022 and thereby all restrictions imposed on the Fundamental Rights of Indian Citizens were also removed, which were enforced since the last two years. Some eminent advocates, doctors and social workers played a very pivotal role through Online and Offline Civil Rights Movements and Judicial Activism in this case.
Hon'ble Minister of Health & Family Welfare, Govt. of India (Encl. 7) stated that Covid-19 vaccination is entirely voluntary in his reply to question no. 3976 in Lok Sabha on 19.03.2022.
Under Secretary of Govt. of India & CPIC reply to the RTI on 09.3.2021 (Encl. 6) stating that covid-19 vaccine is voluntary and vaccination is not connected to any government benefit, service, citizenship is an answer to question asked on job and salary payment.
Under Secretary of Govt. of India & CPIC reply to the RTI on 23.3.2021 (Encl. 6) stating that no compensation will be paid for any side effects of covid-19 vaccination because it's a voluntary.
Chief Secretary, Government of Maharashtra issued order on 08.10.21 & 27.11.2021 (Encl. 5) define the Fully Vaccinated Person which includes persons medically not allowed for vaccine with respective Medical Certificate issued by recognised doctor.
WHO suggested not to discriminate vaccinated and unvaccinated groups (Encl. 4) in its Press Conference dt. 11.01.2022.
Government of India revoked the Disaster Management Act and Epidemic Act through the Ministry of Home Affairs on 23.03.2022 declaring all Covid-19 related restrictions removed due to considering allover India's situation became normal.
Maharashtra State Cabinet withdraws all COVID-19 related restrictions under the Epidemic Diseases Act and Disaster Management Act from 02.04.2022.
In a recent affidavit dt. 13.01.2022 submitted before Supreme Court on behalf of Union of India (Encl. 1) which is affirmed by Dr. Veena Dhawan, Joint Commissioner (UIP) in the ministry of Health & Family Welfare, Government of India, it is once again made clear that:
(i) The vaccination is voluntary and no one can be given a vaccine against his wish.
(ii) No one should be required to carry & show the vaccination certificate to any authority
(iii) It is the duty of person giving vaccine that, before giving vaccines each person should be informed about adverse side effects of vaccines.
The excerpts from affidavit are as under;
"13…It is humbly submitted that the direction and guidelines released by Government of India and Ministry of Health and Family Welfare, do not envisage any forcible vaccination without obtaining consent of the concerned individual. It is further humbly submitted that vaccination for COVID-19 is of larger public interest in view of the ongoing pandemic situation. It is duly advised, advertised and communicated through various print and social media platforms that all citizens should get vaccinated and systems and processes have been designed to facilitate the same. However, no person can be forced to be vaccinated against their wishes.
14…It is most respectfully submitted that the Government of India has not issued any SOPs which make carrying of vaccination certificate mandatory for any purpose.
19…Counseling before vaccination: It is humbly submitted that Government of India has formulated Operational Guidelines for COVID-19 vaccination. As per these Guidelines, all beneficiaries are to be informed about adverse events which may occur after COVID-19 vaccine.
Ref: Covid-19 Vaccine Operational Guidelines available at website MoHFW at:
https://www.mohfw.gov.in/pdf/COVID19VaccineOG111Chapter16.pdf "
The affidavit is available at following link:-
https://drive.google.com/file/d/1_WeqEb4AcGB9nprHqH8ZjCOO6a2kqAMS/view?usp=sharing
II) Secondly the Maharashtra Education Department has also issued notice (Encl. 2) to all officers that they have not made the vaccination compulsory to any students.
Also mentioned about the objections raised by AIM and Indian Bar Association's Adv. Dipali Ojha regarding death causing and other side effects of vaccination to students.
III) Thirdly – Ministry of Health & Family Welfare Affidavit in Delhi High Court in WP(C) 2033 of 2022:
This affidavit submitted by Government of India clearly states that directions and guidelines released by MoHFW, "do not entail forcible vaccination."
Furthermore the affidavit clearly mentions the following:
Contraindications from administration of Covid vaccines:
(A) With history of anaphylactic or allergic reaction to a previous dose of COVID-19 vaccine and its ingredients.
(B) A suspected or confirmed case of thromboembolic phenomenon following first dose of any of the COVID-'19 vaccines.
(C) History of immediate or delayed-onset anaphylaxis or allergic reaction requiring hospitalization to vaccines or injectable therapies, pharmaceutical products, food-items and insect sting etc.
Please note: Persons having any allergies of pharmaceutical products or food-items also should not take the vaccine.
It is clear from the above that many individuals with the above mentioned conditions are exempted from taking the Covid vaccines. Also anyone directly or indirectly forcing anyone to take the Covid vaccine can be held criminally liable.
Dr Abhay Chheda recognized medical practitioner issued Medical Certificate (Encl. 3) for me stating of non eligibility for COVID- 19 vaccination on following grounds:
The excerpts from Medical Certificate are as under;
"e) He has come in contact with corona virus and had developed natural immunity which is much better…than the immunity generated due to injecting vaccine. It last much longer… person cured from corona cannot be spreader of infection…
[Madan Mill Vs. UOI 2021 SCC On-line Gau 1503]
f) … not willing to take the risk of side effects of vaccines and as per the Government of India's directives, taking vaccine is voluntary and no compensation is provided to such person, therefore, I cannot give my recommendation in favour of vaccine.
g) … and mandated in Montgomery's case [2015] UKSC 11, I have informed him about alternative remedies mentioned in the protocol issued by ICMR, AYUSH Department … therefore he cannot be forced or recommended to take the vaccines…
Immunity conferred by Homoeopathic, Ayurvedic, Naturopathic and Siddha, systems is broad spectrum & covers not just 1 strain, but the entire range of strains as against specific vaccine to a particular strain of virus, as they strengthen the host itself…
This medical certificate gives him the status of "A Fully Vaccinated Person."
Under these conditions, I must be consider as a fully vaccinated as described above and also by considering the several High Courts and Supreme Court rulings upholding the Fundamental Rights of Art. 14, 19 & 21 and even the State and Central Governments also stated time to time that vaccine is voluntary and no any benefits, salary, job, etc. are at all connected with the COVID- 19 vaccination.
By considering the aforesaid legal facts and rules of the Central and State Governments and its stands more precisely cleared in the court of law. Hence I request your good self to allow me to join my duty offline instead online at the earliest.
Thanking You in anticipating your positive response.
With Regards.
Yours Truly,
Encl:
1) Affidavit dated 13th January, 2022 submitted before Supreme Court
2) Maharashtra Education Department Notice dt. 02.03.2022
3) Medical Certificate dt… issued by Dr. Abhay Chheda
4) WHO Press Conference Transcription dt. 11.1.22
5) Government of Maharashtra Order dt. 08.10.21 & 27.11.21
6) RTI reply dt. 09.03.21 & 23.03.21 given by Under Secretary of Govt. of India & CPIC
7) Minister of Health & Family Welfare, Govt. of India answer in Lok Sabha to unstared question no. 3976 on 19.03.2022
8) COVID- 19 Vaccines, Operational Guidelines dt. 28.12.20 issued by the Ministry of Health & Family Welfare, GOI.